Happy New Year
Everyone here at Bethell racing wanted to wish everyone a very Happy New Year. We are now back in the swing of things and the horses have come back into light exercise building them up for the season ahead. It is always a great time of year there are many hopes and dreams for the forthcoming season and I genuinely believe we really have some very exciting horses here at Thorngill.
At the moment we don't have too many that will be running on the all-weather this winter but we have a select few that we certainly hope can win races along the way. Next week there will be three entries. They start with Portledge on Tuesday he returns to Newcastle where he has had a lot of success in a similar event to what he has won before, he seems in great form and we are looking forward to getting him back on to the track!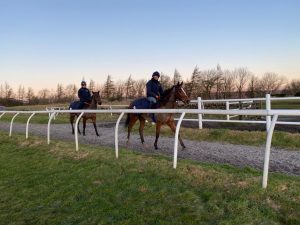 Thursday next week we will probably have two runners Rich Approach and Mudawwan, they are both looking absolutely fantastic and we have been really pleased with the way they have been training over the past few weeks and they are ready to start their 2020 campaign off.
The runners that we have already had this year have run very well without winning. Briardale finished a very gallant second at Catterick over hurdles and it looks like he will be winning very soon. Strawberryandcream ran a creditable fourth at Newcastle after a bit of lay off, she ran as if she needed the race and again I really don't think her winning turn will be very far away. Finally Call Me Madam ran well at Wolverhampton in what I believe was an extremely muddling race, hopefully a return to a more conventional track might see her in a better light.