THE SEASON IS JUST AROUND THE CORNER
The preparations for the 2020 season have really started to go up a gear this week. We have galloped the majority of the horses and they have all come through their first serious pieces of work extremely well and we couldn't be happier with where we are at with them. There certainly looks to be a few horses to look forward to this season, especially as it is less than one month away. We will have a few horses earmarked for the first weekend of the turf season, so fingers crossed all goes well between now and then.
The Cheltenham Festival is upon us next week, sadly we will have no runners, but I am sure we will be watching with much anticipation and hopefully it all goes ahead with the dreaded coronavirus looming over the majority of the country. Away from Cheltenham we will hopefully have five runners next week, four of which will be on Tuesday between Southwell and Newcastle.
Strawberry and Cream goes to Southwell for the 2.35pm race. She came out of her last run very well and seems to be incredibly fresh and well in herself, like all these things we are not 100% sure she will go on the surface, but I think if she handles the fibresand okay, she should be right there in contention at the finish. Hopefully Kevin Stott will ride, he has been riding very well in Dubai this winter.
We then go on to Newcastle on Tuesday evening. Where the first runner will be Call me Madam in the two-mile handicap, she is returning to the same grade, same track where she put in a career best performance last year. However, like all these things it looks an extremely competitive race, but she seems in good form at home and we are hoping she can give a good account of herself, especially for her long-standing owner Mr Gibbons.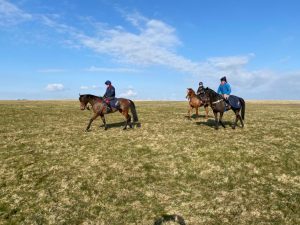 Finally, at Newcastle, we have two in the same race Rich Approach and Mudawwan, hopefully both will get a run and the race divides in the correct way! Firstly Rich Approach, he came out of his unlucky run at Kempton well the other night and he was just very unlucky not to get a run earlier and they went at such a sedate gallop, hopefully his fortunes will change and he can go on to run a big race on Tuesday.
Mudawwan is training really well at home and if the Mudawwan we see at home turns up then he should be able to win these types of races very easily!! However, it is a very big IF.