Storm Dennis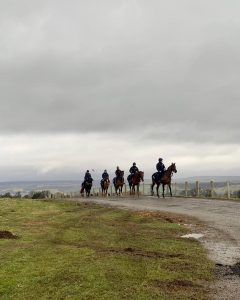 It has been a blustery couple of weeks here at Bethell Racing.Fortunately for us we have still been able to get all the horses out exercised and doing their routine work. They seem to be extremely fresh and well in themselves with their work stepping up in the next week or two. Last night, we looked around all the horses and we were delighted to see the gleams from their coats, they all looked absolutely magnificent in their skins and they are showing that we have plenty to work with in the coming months.
We will have one entry next week and that is Rich Approach at Kempton, he has come out of his last race absolutely fine and he seems to be bouncing, he was bucking and squealing the other morning. I believe the application of cheekpieces will do the trick.
All our two year olds have been coming along nicely they are doing two steady canters a day and their workload will be stepped up in the next few weeks, there certainly looks to be a couple of sharper types in amongst them.