Out with the Old and in with the New
From Old to New, 2020 has been a memorable year in many ways. Mainly due to COVID but we also had a wonderful year with many great highlights too many to mention. It now looks as if crowds will become a regular fixture again, which is a huge relief and delight to many! Racing without crowds was a fairly soul-destroying experience, but the fact we had racing was something we should applaud because it has not been a straightforward year by any stretch of the imagination! The BHA have done a great job to get racing back in a safe environment and I think the lack of cases publicised through the racing industry just goes to show how conscientious everyone has been, from the top of the BHA through to every member of staff in the racing yards, without them there would be no racing!
We had so many highlights this year within the yard, MOSS GILL winning the City Walls Stakes at York and then running against Battash to finished 3rd in the Group 1 Nunthorpe, was such a huge thrill and we are incredibly lucky to have a horse of his calibre in our yard, I know he is a horse I will be looking forward to massively in 2021. He has had a nice break in the field and has put on a huge amount of weight and looks wonderful! His plans are still in discussion at the moment.
EAGLE'S FOOT finished off the year as we started it rounding it off with two decisive victories at Newcastle, showing that he might well be a stayer to look forward to, the Northumberland Plate has been thrown out there, he would need to improve a great deal to get into the big race, but the consolation race might not be out of the realms of possibility!
DAWAAWEEN was a huge success story, having purchased her for 27,000gns last December she went on to improve from 70 to 90 within 8 months of having her, she only finished out of the placings once and that was due to trainer and assistant error running her over the wrong trip! She was a filly who really could have gone on to contest in some bigger stakes races, however overseas money came calling and Mr Dawson decided to sell her and rightly so.
The two-year olds held their own in some very competitive races, GRANTLEY scoring first time out and running very consistently in some hot Nurseries all year. RICH DREAM looking as if he might be the standout two-year-old running a big race at York in the very hot convivial Maiden to then backing that up with a decisive victory at Haydock next time. He has had a big winter break to strengthen up and he looks a horse with a big future, especially with his size, he was only going to get better this year!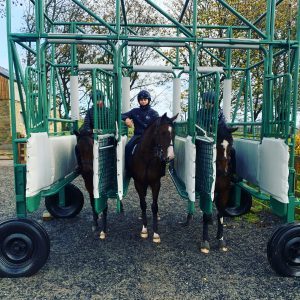 The babies learning the ropes.
Furthermore, the big announcement happened with my father retiring and I am to take over the license from 2021. I have a lot to thank my parents for whilst growing up and hopefully I might be able to repay a small bit by being a success with the yard that they have worked so hard to create. I am in an enviable position to be taking on such lovely horses and a growing yard for the 2021 season and I cannot wait to get started. I know dad will be in the background, but I believe that can only be a good thing, we have a great relationship and we have our own opinions but hopefully we can forge together like we did this year to build and strengthen Bethell Racing for the future!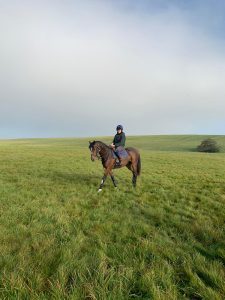 Young Winston (Churchill ex Come with me) out at exercise
In conclusion I would like to thank all the team behind the scenes at Bethell Racing for the past year. It has not been easy, and they have been an absolute pleasure to work with and we look forward to growing together for many years to come!!
Wishing everyone a Merry Christmas and Happy New Year to you all.
Officially signing off as a new trainer.
Edward