February update
We only have one month until the start of the 2020 flat season and it certainly seems full steam ahead here at Bethell racing, the horses work has all picked up and they seem to be really thriving in horrible conditions, which is testament to the horses but also the great team here at home.
Rich approach ran on Wednesday he was a very fast finishing third, in our opinion he was very unlucky he got shuffled back very early on in the race and then made up a lot of ground in the final furlong. Whether we would of beaten the winner I am not 100% sure but I feel we would of certainly been a lot closer.  There is another race for him on the 10th March, all being well he will be aimed at that.
Furthermore, we have one more entry in the next five days and that is Summerbridge at Southwell in a Median Auction race, she is just about ready to start back and this looked like a nice starting point for her 2020 campaign.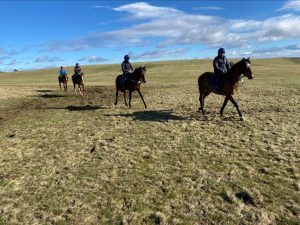 Some of the two year old colts returning from exercise.