Eager Anticipation as the Yearlings begin to Learn the Ropes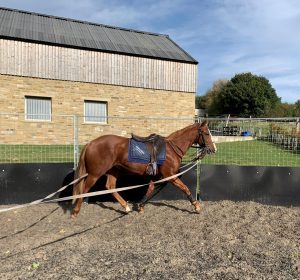 With the success Ed has had in his first season training I'm sure it comes as no surprise to hear that there have been many new exciting arrivals to Thorngill in the last month, with more still to arrive! The yearlings within the yard have been produced by champions, who all had decorated careers; Kingman, Expert Eye, Showcasing and Profitable to name a few. Ed is extremely grateful to have been sent such a large number of horses, there is a great atmosphere in the yard. The team are already eagerly anticipating next season… Bring on 2022!
 Before turning the spotlight on this year's yearlings who are making great impressions for themselves, we must touch on Eds Bargain Buy; Regional. Regional purchased for a laughable £3,500 by Ed, in conjunction with Tom Biggs soon made his mark when he comfortably won the Ripon Cathedral City Of The Dales Class 2 Handicap, lifting £12,369.60 in prize money. He is likely to line up in the Virgin Bet Wentworth Stakes (Listed Race) at Doncaster on Saturday (02/11). It would be brilliant to see Ed end his season with One Group winner and two Listed winners, our fingers are crossed.
As we draw to the end of the Season and the runners begin to lower in numbers, Ed has ensured that his work riders at home do not let their standards slip as this years yearlings are already making great progress in learning the ropes…superglue at the ready.
Much to Eds disappointment the first string of yearlings to step foot on low moor grass were all model performers, taking to the job like a duck to water. (This can be seen in the video link below). Let's hope this is a recurring story with them all!
video – Yearlings starting out on the Moor.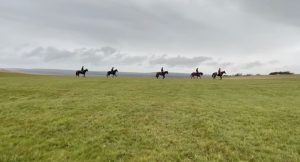 The picture above shows four of the yearlings, who all have appreciable pedigrees learning their role on the moor.  We have great hopes for these yearlings in the near future. Who knows where they may take the yard? We dream big!