Christmas is here
Firstly we wanted to wish everyone a very happy Christmas from us all here at Bethell Racing. For us it is a quiet time of year, the horses have wound down and they will have a period of rest.
The yearlings have been coming along really well, they have all been up doing two canters a day and a few of them are really starting to stick out. We do happen to have a few shares remaining in three of them, but they are all nearly sold and I know that I wouldn't mind keeping a leg or two in them. They look like a really exciting bunched they have come in all shapes and sizes, I believe we will have some sharper two year olds and I think we will most certainly have some later developing two year olds.
We have had a couple of runners this weeek, Rich Approach ran third in a race that we believe was not run to suit him, he was finishing off the race well, the winner just got first run, he will be stepped up in trip next year and hopefully the Vickers &Clark partnership will continue to have some fun with him.
We we will not have anymore runners until 2019, where we hope to start the year on a good note. We will have a few bullets to fire in the maidens and we are very hopeful that they should be quite an exciting bunch, they showed enough as two year olds to suggest that we will have a lot of fun. They just needed more time to strengthen up and that's exactly what they have done, so hopefully it will be very exciting start to 2019.
Edward recently ventured to Bahrain in the view to find new owners and gain a better understanding of the way things are done in the Middle East, he found it hugely informative and met some incredibly nice people who looked after him very well, especially Sheikh Salman Al Khalifa. Edward and Sheikh Salman had  a very enjoyable lunch together and discussed racing in great length we are both hopeful that it will be the start of a great friendship.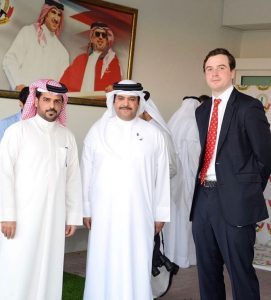 Edward with Sheikh Khaled and Sheikh Salman
If you are interested in buying shares or a whole horse please don't hesitate to get in touch either by phone 01969640360 or alternatively email office@bethellracing.co.uk