We are well into February and things are gradually increasing here at Bethell racing. The horses are looking fantastic and we genuinely couldn't be happier with the preparation of the horses, a lot of it is down to the milder conditions that we have encountered, fingers crossed we are not hit by something similar to the beast from the east.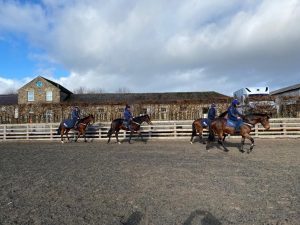 Some of the two year old colts at exercise.
Our runners in the past couple of weeks have been hitting the crossbar and I am sure their turn will not be far away. This week we have two entires on Saturday Portledge and Strawberry and cream. Portledge has certainly come on for the run and I am pleased with how he has been training going into his run on Saturday and he is weighted to hopefully turn the tables on some of his old rivals. Strawberry and cream ran a cracker last time, only to be beaten by a horse who miraculously found form, having shown very little form in seven starts prior to that run. We will wait to see what the race looks like before making any decisions on her.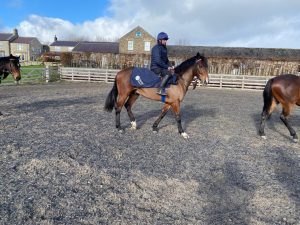 Exalted Leader and Allan Nutter.
Rich Approach ran last night, he travelled seamlessly through the race and it looked for all the world that he was going to bolt up but he seemed to lack concentration in the final 150 yard, I believe an application of headgear is the next plan of action.
Our two year olds are stepping up in their workload and they seem to be thriving, in this warmer weather. We have a lovely bunch of colts and fillies this year, however, like everyone they are very much swans at the moment and I can safely say I am dreaming, so I sincerely hope their owners are too.
We would also like to welcome a few new faces to our team, Steph, Beth, Gianluca, Katie and Skye. We sincerely hope they enjoy working with us here at Bethell racing.